August 26, 2022 Outlook
Troubled Over Outlook Not Sending Emails? Fix the Issue Easily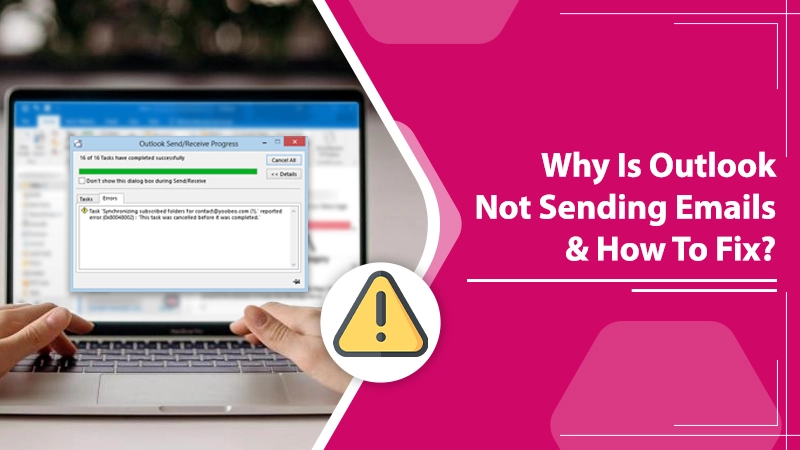 Microsoft Outlook is one of those few email applications that enjoy the loyalty of a huge customer base. It is especially useful for email communications as it seamlessly manages your time, contacts, and emails. However, even the best applications and programs can sometimes falter. The same is the case with Outlook. Users often find themselves confused after they compose a message and hit the send button. The message remains stuck in the outbox. Outlook not sending emails is a fairly common issue that every Outlook user may have faced at one point or another. If you are here because of being troubled by this problem, keep reading to know what you can do to resolve it.
Why Are You Unable to Send Emails from Outlook?
Users facing this problem often complain that no matter how many times they send the message, it eventually returns unsent. Others say that the message takes infinitely long to get sent. Below are some possible causes of this issue.
Faulty Send/Receive settings are one of the major causes of problems in an email exchange.

Huge file attachments also prevent the email from getting sent to the recipient.

The antivirus on your system is conflicting with Outlook and preventing it from sending emails.

Your Outlook account is not authenticated.

If there is no connection with the server, Outlook won't be able to send messages.

When Outlook is being used in conjunction with another application, you can encounter problems in sending emails.
Also Check:-  Why Is Outlook Disconnected
Fixes to Employ When Outlook Cannot Send Email
By now, you must possess a little more understanding of this problem. Now, it's the appropriate time to dive into exploring the different resolutions for it.
1. Ensure that You are Connected to the Internet
If you have got poor or unstable internet connectivity, it will be difficult for Outlook to send emails. So, you examine your internet connection. Do it by looking at the right part of your screen. Messages like 'Trying to connect' or 'Disconnected' point toward you being disconnected from the internet.
In such a case, it is highly recommended that you reconnect your connection. After your internet connection becomes stable, tap the 'Send/Receive tab. The email will have been sent by now, and you will no longer find it in your Outlook outbox.
2. Make Sure to Work in the Online Mode
In Outlook, users can work both offline and online. However, suppose you've been finding that your email is landing up in your inbox repeatedly. In that case, it's time to ensure that you are working online. Here is how you can do so.
Launch Microsoft Outlook.

Now, tap the '

File

' tab.

See whether there is a tick present beside the Work Offline option.

If you find the checkmark, remove it.

Now, tap '

Send/Receive

' again to send the email messages stuck in your outbox.
3. Fix the Problem with Large File Attachments
Users cannot send emails from Outlook if they contain huge file attachments. But sometimes, you have no option other than to send the attachments. In such a case, you can find other ways to share these attachments. Below are two things you can do when sharing an email with a big file attachment.
Save the File to the Cloud and Share Its Link
Today, you can find many cloud services like OneDrive and Google Drive. You can upload your file here. When the file gets stored here, simply take its link and put it on your email. You'll find no problem in sending this email.
Minimize the Image Size
Another thing users can try is to compress or minimize the size of the huge image files. Follow these steps below to reduce the image size.
Attach the pictures to your email.

Tap '

File

' followed by '

Info

.'

Choose '

Resize large images when I send this message

.' It is found under '

Image Attachments

.'

Go back to your email and hit '

Send

.'
4. Enable Authentication in Outlook
As mentioned earlier in the causes, if your Outlook account isn't authenticated, you will find problems in sending emails. Here is how you can turn on authentication.
In Outlook, head over to the internet email setting.

Now, choose the '

Tools

' menu.

Navigate to '

Email Accounts

.'

Tap '

View

.'

Then click '

Next

.'

Choose your email account and tap '

Change

.'

Tap '

More Settings

.' You'll see another window appearing.

Tap the tab of '

Outgoing Server

.'

Tick the '

My outgoing server (SMTP) requires authentication

 option.

Tap '

Use the same setting as my incoming mail server

.'

Then tap '

OK

.'

Finally, tap '

Apply

' followed by '

Finish

.'
5. Repair Microsoft Outlook
If there is damage in specific parts of the application, Outlook won't send emails. In such a scenario, it becomes essential to repair the application. You can repair Outlook 2013, Outlook 2010, and Outlook 2016 in Windows 10 system through the following steps.
Exit every MS Office program open on your system.

In the search box of your computer, input '

Apps & Features

.'

Now, choose its search result.

In the list of installed apps, tap '

Microsoft Office

.'

Choose '

Modify

.' If you see a window prompting '

Do you want to allow this app to make changes to your device

,' tap '

Yes

.'

Choose '

Online Repair

' followed by '

Repair

.'

After the repair process completes, start Outlook again.
6. Update Your Password in Outlook
Have you modified your email password but forgot to change it in Outlook? In this case, you'll likely complain of Outlook email not sending as the password isn't synced. Sync your password by following these steps.
Tap '

File

' and choose '

Account Settings

' followed by '

Account Settings

.'

Choose the '

Email

' tab.

Select your account and tap '

Change

.'

Input your new password in its box.

Choose the '

Next

' option followed by '

Close

' and then '

Finish

.'

Now, choose the '

Send/Receive All Folders

' in the upper-left part of the window.

You will have no problems sending the email.
Summing Up
Outlook not sending emails or taking an enormously long time to send them can feel quite frustrating. The measures above will help you to fix this problem effectively. Apart from them, it's also important for you to ensure that you are making no mistakes in typing the recipient's email address correctly. However, if you still find the problem persisting, it's best to connect with expert email technical support services where the technicians are there 24/7 to assist you.