October 12, 2022 MSN
6 Top Fixes For MSN Email Not Working Issue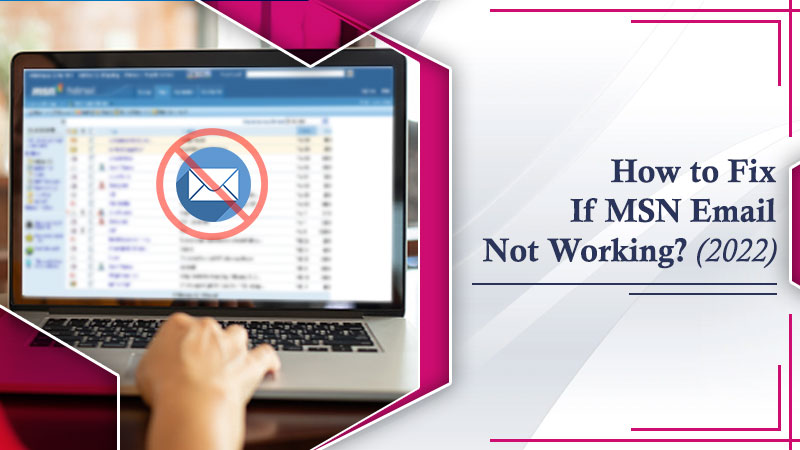 MSN or Outlook.com is a renowned email service that people worldwide trust. Millions of users rely on its proper functioning to carry out their personal and professional activities. So, if you find MSN email not working, it can pose severe problems. A malfunctioning email service that you use so often can put a halt to your everyday tasks. However, don't think that issues with MSN are uncommon. From signing-in problems to not being able to receive or send emails, there are plenty of problems users encounter. In this article, we've curated a list of highly effective troubleshooting sequences. They will allow you to get past a vast majority of email issues.
Basic Troubleshooting For MSN Email Not Working Problem
Before continuing with specific fixes, it's best to try some basic troubleshooting. In a majority of instances, it is enough to help you eliminate email issues. 
Check your internet connectivity. If you don't have a sound internet connection, you'll be unable to log in to your email. 
Clean up your inbox. Sometimes, a fully loaded inbox makes it difficult for you to access the emails you want. If your inbox is filled with messages, you can delete older ones or archive them. 
Sync emails manually. To do so, just log in to MSN Explorer and choose 'Mail and More.

' Now choose '

Inbox

.' Below the navigation bar, locate an envelope having two green arrows. Tap it to sync your email. 

If you are linked to an organization's network, its security measures may be behind your inability to access your email. In this case, you need to connect with your system administrator. 
Fixes For MSN Mail Not Working Issue
If you still face issues using your MSN email, follow the below-mentioned techniques. Use them to get rid of issues associated with your email account.
1. Double-Check Your Account Settings
Here you should ensure that the spelling of your account, name, domain name, and outgoing and incoming mail is correct. First, launch your mailing account.
Now, verify your settings.

Open the mailing account and tap '

Tools

.

Now, go to

'Accounts

' and click the '

Mail

' tab.

Double-click every email account to view its settings and info.

Remove duplicate or extra accounts that are not in use.

Tap'

General

.' 

Now, see if the spellings of your account settings are right. 

Likewise, ensure that your account name, domain name, and outgoing and incoming mail all are correct.

Now, check if there are any messages stuck in your outbox.
2. Fix The Password Issue
Has your MSN email stopped working on Outlook on the web? It can be because of a password problem. 
Head to the website Outlook.live.com.

After that, log in via your email ID and its password.

In case you don't remember it, navigate to the recovery page of Microsoft.

From there, you can easily modify or reset your password and log in to your account.

But if you cannot, inspect your internet connectivity. 
3. Re-Add Your Account In Windows 10 And Mac
Do you use the Outlook app for Windows 10 or Mac and are encountering MSN email issues? You must try reading your account.
Launch the Outlook app. Click the '

File

' tab.

Now, head to '

Account Settings

' followed by '

Manage Profiles

.'

After that, go to '

Email Accounts

.'

Choose your account and tap '

Remove

.'

Now, head back to the Outlook app and tap '

File

.'

Tap '

Add Account

' and add your email address.

Ensure that you know the password associated with it.
4. Rename The SDF Files
Are you facing MSN email problems with regard to sending and receiving emails? It happens when the database of your MSN emails becomes corrupt. A good fix is to rename the SDF files present in the database folder.
Sign out of MSN and exit the program.

Tap '

Start

' and input this command in the search box: '%UserProfile%\AppData\Local\Microsoft\MSN.'

Press Enter, and you'll see the MSN folder opening.

Here tap '

Organize

' followed by '

Folder and search options

.'

Now, click '

View

.'

Place a dot on the option saying, '

Show hidden files and folders

.'

Now, remove the check beside the option to hide extensions for known file types.

Also, uncheck the option to disguise protected OS file options.

Tap '

Apply

' and then '

OK

.'

Now, launch the folder db40 and search for files with the ending msn-com.sdf.

Also, look for files ending with msn-com_JMF.sdf.

Right-tap on them and select '

Rename

.'

Now, input .old after sdf in these files.

Close this folder.
5. Remove Cache Files
Similar to a majority of applications, MSN/Outlook saves cache files on the system where it is being used. This enhances the performance of the system. But it won't remove your Outlook messages.
Bring the Run dialog box by hitting the

windows key + R

.

Input the following command '%localappdata%\Microsoft\Outlook.'

In the File Explorer window, locate the RoamCache folder.

In this folder, all your Outlook cache files are present.

Choose all the files and right-tap on any one of them. 

Tap the '

Delete

' option.

This will troubleshoot the issue you are coming across.
6. Examine For Software Problems
You may be using a third-party email app such as Outlook or Gmail to access your MSN email. If you find your MSN email not working on these apps, chances are that there's a glitch in these apps. In such an instance, you can fix the problem by removing and then re-adding your email account. Before doing this, ensure to have all your login information handy.
There can also be another scenario of you using obsolete software to access your emails. For instance, if you are using Windows Live Mail, you will face errors as its no longer supported.
Final Thoughts
Any regular user of MSN email wouldn't wish to encounter the MSN email not working issues. The methods explained in this post will aid you to tackle this problem's various causes effectively. However, if the issue persists, the ideal option is to contact a professional email technical support service.