September 29, 2022 COX
8 Ways To Fix Cox Email Not Working Problem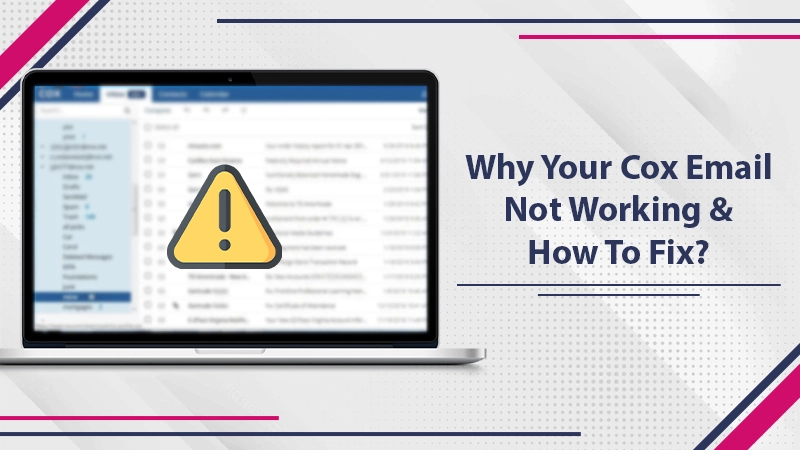 Cox Communication is a well-known internet service provider in the US. Many people use Cox email by configuring it with their Outlook email client. But on occasions, they notice their Cox email not working. People often complain about being unable to access their emails and that their messages load sluggishly. 
These technical difficulties result from various causes that are not challenging to fix. Once you know the reasons and fixes, you won't feel stressed when your Cox email malfunctions. In this extensive guide, you will discover all the different measures to get over Cox webmail issues.
Why Is Your Cox Email Not Working?
Often, Cox webmail suffers from technical glitches. These glitches make it throw up various issues. The probable causes for this problem consist of the following.
You are using a browser or device not supported by Cox email.

Your internet connection is poor.

You are using incorrect credentials to log into your account.

Incorrect SMTP settings.

You have exceeded the email-sending limit. 

Your firewall settings are interfering with the Cox email.

Installed add-ons and extensions are interfering with the email's functioning.
Methods To Fix Cox Mail Not Working
Resolving Cox email troubles is not very time-consuming. Here are some easy yet proven measures to apply. 
1. Modify The Existing Browser
You must be aware of the desktop browsers compatible with Cox email. These include the following ones:
Google Chrome

Microsoft Edge version 13 or higher

Internet Explorer. Use its version 10 or higher

Mozilla Firefox

Safari 10.01 and 10.03
 Apart from these, you must also know the browsers that are compatible with the mobile device. Cox email is compatible with the Chrome browser on Android 4.1 or higher OS. It is also compatible with the Safari browser on iOS 9 or higher. 
2. Use The Correct Cox Server Settings
It is crucial to inspect if you are employing the correct Cox server configuration. If they are incorrect, you will come across Cox email problems. 
The incoming server name for IMAP is imap.cox.net.

Its port is 993, and SSL is enabled.

The incoming server name for POP is pop.cox.net.

The incoming port is 995.

The SMTP or outgoing server name is smtp.cox.net.

Its port is 465, and SSL should be enabled. You can also employ port 587 with TLS.
3. Switch Off The SSL
Disabling SSL can also restore the functioning of your Cox email. Utilize this procedure for deactivating SSL.
Head to '

Mail

' and choose '

Preferences

.'

Now, go to the '

Account

' menu. It's present on the left portion of the menu bar.

You will come across your account info on the right-hand part.

There are three tabs there at the top.

Go for the '

Advanced

' tab.

In the subsequent window, the port number details will display.

Here, delete port 995.

Instead of it, input port number 110.

Also, place a tick on the checkbox of '

Use SSL

.'

Now, exit this window.

Hit '

Save

' to save all the details.

After that, load your Cox email.
4. Disable The Security Software 
Firewalls and security programs protect your device. However, at times, they also obstruct the functioning of various applications. If you are using your Cox email with Outlook, you can open Outlook in the safe window. 
Hit the Windows + R keys to open the Run box. 

Inside this box, input 'outlook/SafeMode.'

Now, hit '

OK

.'

After that, see if the Cox email is working properly in Outlook. If it works as intended, you may need to disable the firewall or your security software. 
5. Confirm The VPN Connection
Users who have VPN turned on frequently experience Cox email issues. It sends your IP address to the site from a different location. It is detected for security concerns. You must turn off those VPN programs that may lead to email problems on your device. After that, log in again and use the email service. It will work smoothly.
6. Reset Your Password
Sign-in issues because of Cox email not accepting the password are common. You may enter an invalid credential and not be able to sign in to your account. But if you know that you have entered the correct one, take these steps to reset it.
Head to the web browser of your computer.

Now, go to the Cox email website.

Navigate to the Sign-in page and look for the

'Forgot Password

option.

Input your user ID in this space.

Now, simply use the on-screen instructions to reset the login password.

You will be asked a security question.

You can choose a specific question and enter its answer.

After that, sign into your Cox email account with the new password you just created.
7. Find if The Cox Spam Filter is Working
There are three junk and spam screening options for emails in Cox mail. You can arrange the filter according to your preference. To do that, head to 'Options' in your Cox mail followed by 'Rules.' Here, choose the spam filter that you want. But if you find this filter not functioning properly, contact Cox support.
8. Switch Your Server Protocol
While you configure Cox email on a third-party client like Outlook, you can opt for either IMAP or POP protocol. However, if you find Cox email not working on Outlook on a specific server protocol, you may need to change it. It's better if you choose IMAP instead of POP, as it is more flexible. Using it, you can synchronize your Cox email account across every device. 
 Here are the incoming and outgoing account settings for configuring Cox email in Outlook using IMAP.
The incoming server name must be set as IMAP.cox.netSecure.

Use 993 as the incoming port number.

The insecure incoming port is 143.

Let the connection security be SSL or TLS.

In the Username and Password sections, type your Cox email account username and password, respectively.
 You know the outgoing server or SMTP for configuring Cox email on Outlook. They are mentioned in the previous section.
Final Thoughts 
Troubleshooting Cox email not working is important for those who use only this email account to access their daily emails. You can also use the measures if you access this email through Outlook. But if you get stuck in between, take help from expert email technical support professionals. 
Related Post 
7 Best Solutions for Bellsouth Email Not Working Issue
6 Ways To Fix Earthlink Email Not Working Issue
Expert Fixes For Frontier Email Not Working Problem