December 14, 2022 AOL
How Do I Reset My AOL Mail Password?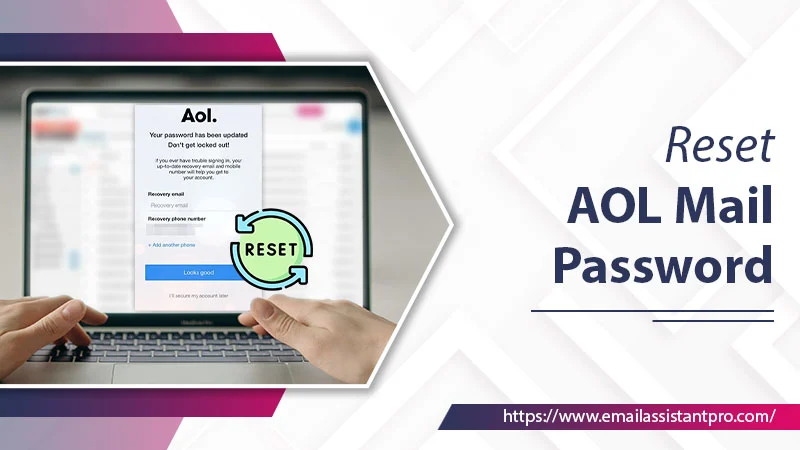 Every email account should have a strong password. The same is true about AOL. But even if you create a robust credential, it is essential to change it from time to time. When you know how to reset AOL Mail password, you can always keep your account safe. AOL gives its users easy methods to reset their account passwords. You can use your browser and change the password from there. If you've forgotten the password, tap the 'I forgot my password link on the sign-in page. Read this entire piece to find out about these processes in detail.
Read Also: Why Aol Mail Not Receiving Emails
Steps to Reset AOL Mail Password If You Have the Current Password
You can easily modify your AOL password when you have the existing one with you. Here are the pointers for changing the AOL password in this case. 
Head to aol.com from your web browser.

Once you are on this page, log in to your AOL Mail account.

After that, head to the top-right part of the screen and tap your profile picture. 

Now, you will get redirected to your mail account page. 

Tap'

Account Security

.' This option is present in the navigation pane. 

After that, tap the '

Change password

' option.

Input the new password that you've made. 

After entering it once, input it once more. 

At this point, ensure that you input it correctly.

Tap the eye button to check whether you are typing the password correctly.

After that, tap '

Done

.'

Your new password is saved. 
The Process for AOL Mail Password Reset If You've Forgotten It
Don't worry if you cannot recall or have forgotten your account password. You can reset it easily from the AOL.com website. 
On the official AOL website, find the Sign in page.

Fill in your username and tap '

Next

.'

You will find a page to input the password.

Tap '

Forgot password

.'

Now, you'll find a set of instructions to change or reset the password.

Based on the type of security method you've configured, you'll be provided with a set of instructions.

Generally, users find a verification code on their email addresses. 

After entering it correctly, you can change the password.

But if you've opted for an alternate email address route, open the email and look for the message from AOL.

You will find the '

Yes, I would like to reset my password

' option.

A new web page will open. Here you can type the newly created password two times.

After that, hit the '

Next

' button.

You will find yourself back in your email account.
Read Also: How To Fix AOL Emails Missing
Change AOL Mail Password Via the Sign-In Helper
You must also learn to reset the password through AOL's Sign-In Helper page. Users can use it regularly and ensure their passwords are unique and strong.
Head to the Sign-In Helper page of AOL. Click this

link

for it.

Next, input one of the various account recovery items you see there.

After doing so, hit '

Continue

.'

The page will give you various instructions. Follow them.

Now, head to the Account Security page.

Here, tap '

Change Password

.'

Input a new one and click '

Continue

.'
Change AOL Mail Password to Fix Invalid Username/Password Error
AOL users often face an invalid username or password error. The error implies that the username or password they have filled out doesn't correspond with their passwords in the AOL record. You can troubleshoot this AOL issue by using the instructions explained below. 
Update the browser's auto-fill settings. It's possible that your browser is filling your AOL Mail with the old password. 

Examine if you are using the Caps Lock key. If you mistakenly use the Caps Lock key when it isn't needed, it alters the entire password. 

Use AOL Mail in a different browser. If you can easily access your mail by changing the browser, it implies there's an issue with your previous browser. 

Carry out AOL email password reset via the Sign-In Helper. It's particularly useful for those whose AOL account has been compromised. 
Read Also: Why AOL IMAP Not Working
Some Easy Tricks to Find Your AOL Account Password
Apart from using the different measures prescribed by AOL, you can also use some simple techniques. If you forgot your AOL email password, use these simple hacks.
Clear the cookies that have accumulated in your browser and restart it.

Generally, browsers remember user credentials. It would be a nice idea to review the auto-fill settings for finding out your password.

Use a supported web browser if the present one doesn't function and makes you encounter login issues. 

Check the Help site of your browser to figure out where you can find the stored password in settings.

If you need to log in to your AOL Mail often, save your username and password.

You can also tap the 'Password' text box to find matching passwords. One of them can turn out to be the accurate password.
Create Secure AOL Mail Passwords and Effectively Remember Them
Often you need to carry out the AOL Mail change password process when you cannot remember your password. But users whose accounts are hacked also need to change their passwords. Both these kinds of people can benefit by knowing how to create secure passwords and remember them for future use. 
Whenever you create a password, keep these things in your mind.
Try to make a long password as it's more secure than a shorter one. 

Refrain from putting the date of birth or any other obvious details in your password. 

Make a different password for every site you access on a regular basis. 

When creating a new password, use keyboard letters from all four directions. It will help you develop a password with a good mix of letters. 

Change your password regularly. 
A secure password is a complex one, so you need to remember it well for future use. It's best to employ a password manager to store your passwords or type them out somewhere on your phone. 
Final Thoughts
Now there's no need to feel concerned about the security of your account. You are aware of the methods to reset AOL Mail password. Use them per your specific situation, and ensure you have a strong password. Contact email technical support experts if there's any aspect of your AOL Mail account that is unclear to you.